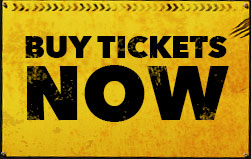 Survival Tips
Visit more than once because there are just too many frights to fit in one night!
Thursdays are less crowded and will save you money on your park admission
Get in early to ensure you get the maximum amount of time to visit the attractions.
The earlier in October you come the less crowded the park is.
Scarywood is a chilling event so dress for the weather. (If you forget, you can buy sweatshirts, jackets and umbrellas at our retail stores)
Costumes worn by guests are not allowed at Scarywood
Physical contact with the actors is not allowed
Scarywood is not recommended for children 12 and under.
Book a group of 15 or more and SAVE on admission. Plus you can book a "Monster Meal" (all-you-can-eat pizza, bread sticks, salad, and soft drinks for only $17.99) with the Scarywood creatures and get in early before the general public. Call (208) 216-4300 to book your group.